Why you should work with continuous improvement
There are great opportunities to develop your business with a structured improvement work. We dare say that those opportunities exist in all organizations. By highlighting the knowledge and making the potential of all employees visible, you create the commitment and achieve the results one step at a time.
Perseverance, goal focus and methodology are important success factors for your continuous improvement. But the most important thing is to get started, regardless of whether it is initially only on a small scale. You can then refine and develop your routines and working methods over time. Often the biggest hurdle is that you keep waiting for a gap where your first improvement meeting can be held. But that gap rarely comes up - there is no better time to start than now!
What is an improvement?
You can make improvements in all areas of the business. It can be small adjustments or large projects and the best improvement ideas often come from those who actually face the daily challenges in the business. Therefore, let the work with continuous improvements be based on the potential among the employees. It can be about better ways of collaborating within and between departments. Free up time by cutting off unnecessary administration or manual work. Learn new things. Prevent risks and problems. Create common ways of working and so on. Various proven lean methods such as daily managment can be excellent frameworks to allow for continuous improvements.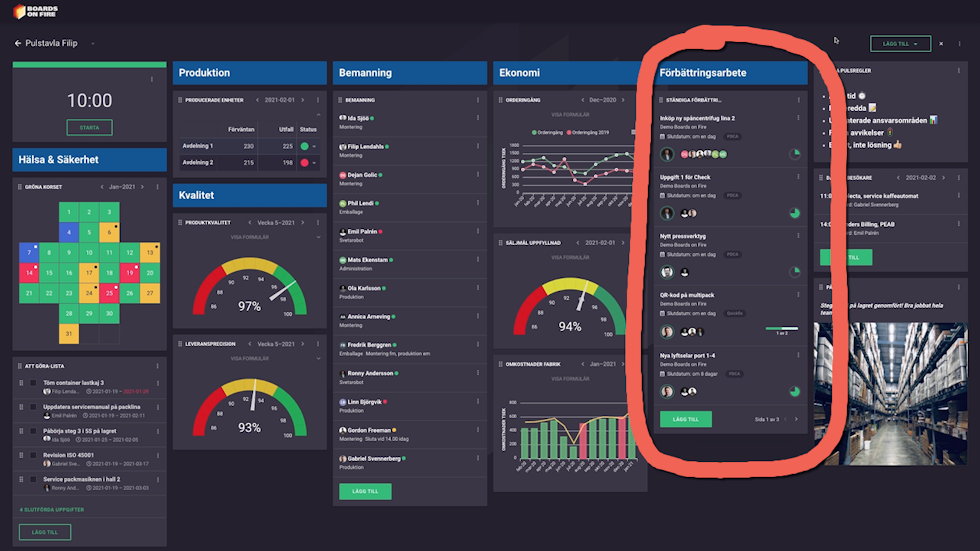 Create an improvement structure in Boards on Fire

In Boards on Fire, you can create a connection directly from the pulse board to continuous improvement and create improvement activities based on the deviations that arise in the business and the improvement ideas that are generated among the staff.
On the pulse board, you can list the ongoing improvement activities. Sorted by end date so you can see if anyone is approaching or has even passed the deadline. You can also visualize the progress by showing the number of completed improvements in different areas. And do not forget to celebrate the successes!
It is also possible to create new activities or suggestions directly from the pulse board at the daily meeting. Give the activity a name, tag it with your own labels if you want, add description, current mode, desired mode if needed. Choose who is responsible or delegate the improvement action directly to a specific department. You can also upload pictures or other files.
Standalone improvement module
The improvement list on the pulse board is linked to the Boards on Fire improvement module, which gathers all improvement activities throughout the business. It can also be run completely independently and it is perfect to start from if you run recurring improvement meetings, for example every or every other week.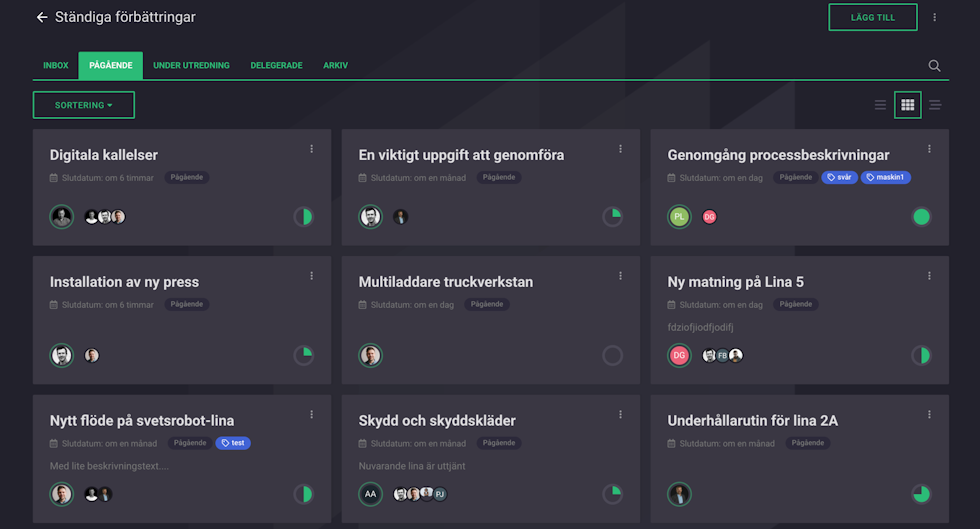 In the improvement module, all activities are grouped under different tabs. An inbox with all new suggestions. Ongoing improvements. Under investigation - which contains activities that are paused or parked for any reason. Delegated - shows those who have been forwarded to another department or perhaps up to the management for decision. And in the Archive you will find all implemented improvements.
You can show the improvements in rows, in the form of cards or in a gantt chart where you see them on a time axis in relation to each other so you can facilitate the planning.
Prioritize and follow PDCA
You can prioritize each activity in a pickchart based on how much effort you think is required and what effect it will have. Small effort and large effect – will of course be something to be implemented. There is also a scale where you can indicate whether the activity involves a risk of some kind, such as downtime or other production disruptions.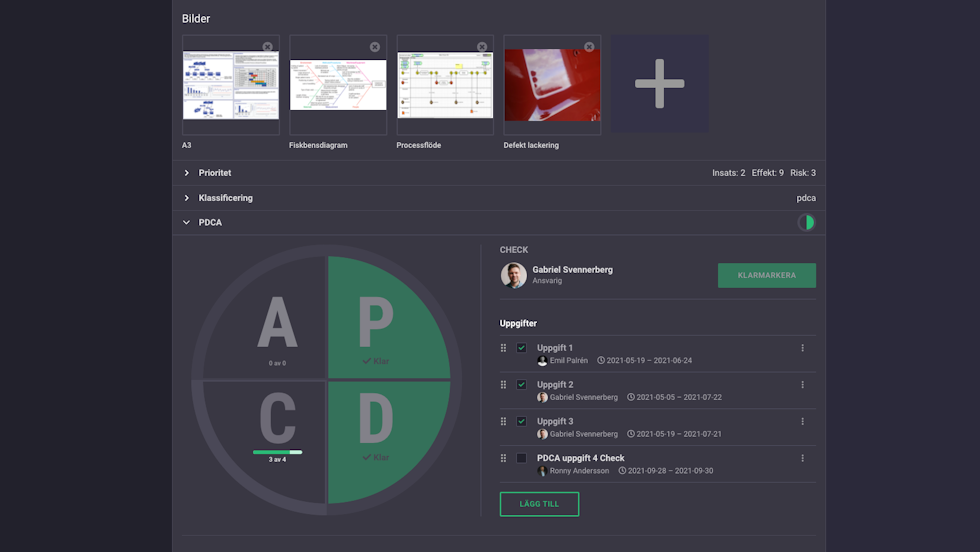 You can add sub-tasks for each step of the PDCA cycle. Set deadlines and delegate the tasks. When all tasks are completed, you can check that step which then turns green and you are ready for the next. When the work is finished and the improvement is completed, mark it and send it to the archive. In the search bar, you can search at any time among all activities, ongoing as well as archived, and find, for example, all that you have chosen to tag with a special label.